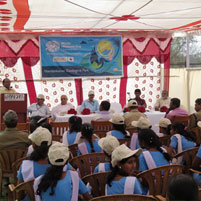 World Wetlands Day, 2017 was celebrated on 2nd February, 2017 on the bank of Kanjia lake, a wetland of national importance (near FRH) in Nandankanan Zoological Park. Mr S. K. Acharya, IFS, Director, Nandankanan Biological Park was the Chief Guest and Mr Sudarsan Maharana, Former Regional Director, Department Education, Govt of Odisha was Guest of Honour during the meetting. The celebration was attended by the local school students, representatives of Print and Electronic media, staff of Nandankanan Zoological Park. The theme of the day was "Wetlands for our future: Sustainable Livelihoods".
An interactive quiz programme on wetlands and water management was conducted amongst the school children by Mr. Dayanidhi Tripathy, ACF Nandankanan, Mr. Micheal Peters, WWF, Mr Milan Kumar Panda, Education Officer, Nandankanan, Mr R. K. Mohapaptra, Biologist and Mr. A. K. Parida, Range officer Special project, Nandankanan. Prizes were distributed amongst the winners of quiz programme, which was highly appreciated by the participants. The Guest of Honour discussed about the importance of wetland in biodiversity conservation and sustainable livelihoods. The Chief Guest emphasized on conservation of the wetlands in general and Kanjia lake in particular in the interest of water management of the locality.
The Deputy Director, Nandankanan Zoological Park welcomed the participants and the guests and the Assistant Director, Nandankanan extended the vote of thanks in the celebration.
Deputy Director,
Nandankanan Zoological Park